Elafonisos is located at the southeast end of the Peloponnese and belongs to the prefecture of Laconia. It is separated from the opposite shore by a shallow strand 150 m wide. The island is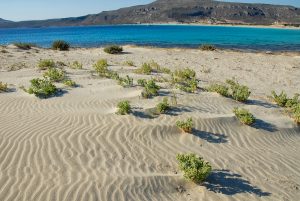 elongated with its longest length at 1,500m. And the largest width at 500m. Although most of it has a width of 150-300m. The highest altitude (39m) is observed in the rocky west part while the rest of the area is mainly lowland and sandy. Rocks and peaks are located along the coastline (with the exception of the eastern corner of the island).
The island of Elafonisos is of great ecological interest with its rare plant and animal organisms. Due to the particular natural beauty of the region, the island has been designated as a Site of Community Importance for the NATURA 2000 network (GR2540002) – in accordance with Council Directive 92/43 / EEC of 21 May 1992 on the conservation of natural habitats and of wild fauna and flora Flora.
The area became protected as it is characterized by the dominance of sand dunes with the rare species of cedar, endemic flora and fauna species. Dams, which are considered to be dynamic and sensitive ecosystems, have a loose sandy substrate and sparse vegetation and grow after the wave-rinsing zone.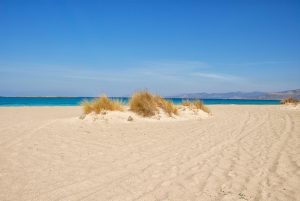 The plants that thrive there are Ammophila arenara, Eryngium maritimum and the endangered Sea Pan (Pancratium maritumum).
When after human intervention the vegetation of the dunes is destroyed or broken locally then the wind drifts the sand in large quantities and covers fields, meadows or wetlands and thus disturbs its stability Chain.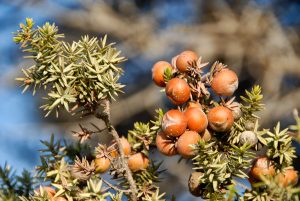 Also, on the enormous beaches of Elafonisos, another species is dominant, the sea-jungle Juniperus oxykedrus ssp Marcocarpa, which is one of the most rare in the Aegean and the Mediterranean.
Other types of habitats that exist are the rocky areas with the phrygana, the steep rocky shores as well as the shallow bays and bays. The area is also a crossing point as well as a breeding site for many migratory birds.
Equally important is the appearance of rare species of amphibians and reptiles such as the sea turtle careta-careta reproduced in the area of ​​Lake
Stroggylis. Lake Strogligi, which has been recorded as a wetland, plays an important role in the balance of the ecosystem of the wider region.